ONLINE COACHING PROGRAM HELPING MUMS OVER 30 TO DROP TWO DRESS SIZES IN 90 DAYS!
WHILE BUILDING STRONG, TONED BODIES THAT CAN KEEP THE RESULT FOR LIFE!
I see you're frustrated that you always seem to come last..
I know that when you do try and make a change, the gym memberships, classes and diets leave you without any lasting results..
I recognise you're sick to death of trying starvation diets only to rebound on the weekends..
I understand that you're too busy looking after everyone else to eat 6 meals a day or 'meal prep' for hours..
You're constantly on the go with the kids and need more energy than just a couple of foul tasting shakes per day..
And of course, you don't want to eat separately from your family.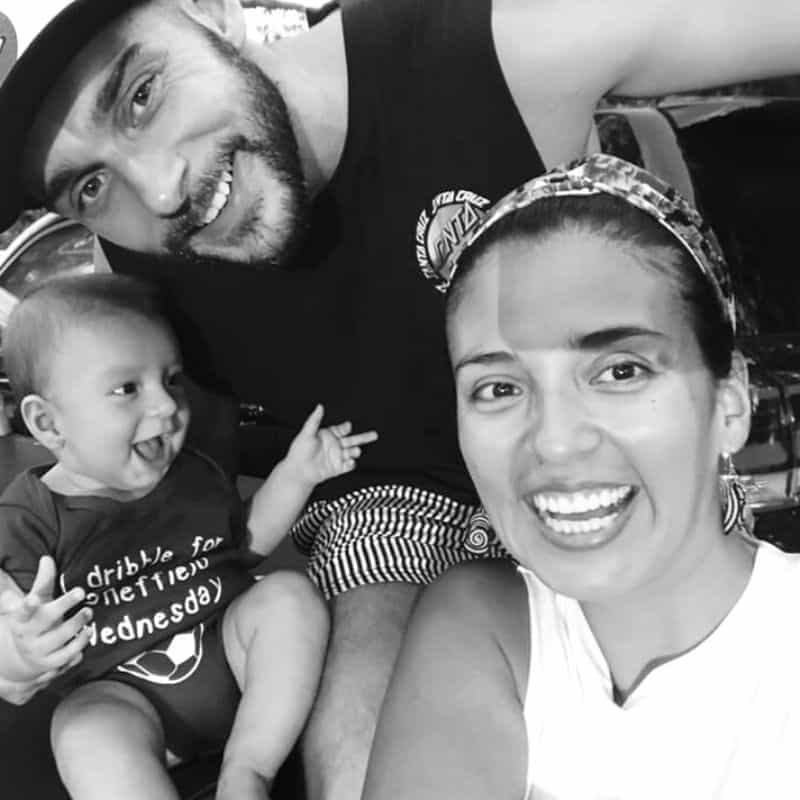 After spending 5 years as a PT specialising in sustainable weight loss for Mums, 3 years ago I launched the PUSH Online Program.
Much of what we do at PUSH goes against the grain of a fitness industry that 99% of the time, sets Mums up to fail. 
I'm proud to say that we've now helped over 200+ Mums prioritise themselves in a sustainable way...
To become the energetic influences in their own lives that they truly want to be.
When Mums win, everyone wins.
If you feel frustrated because you've tried lots of diets and exercise programs without getting the results you were hoping for long term, I want you to know that firstly, you're not alone.
Secondly, the chances are, it's not entirely your fault, most diets and exercise programs out there are extreme, unsustainable and are actually designed and marketed purely to make money.
They want you to lose weight as fast as possible then post your 'results' all over social media so they can market their next bullshit 'challenge', sleazy service or 'magical' product. 
You don't receive any real coaching or support and you aren't educated on how to results last long term (after all, if you keep the result, who buys the next scam?!).
There is zero accountability once you've handed over your money and you're left to fend for yourself.
Inevitably it gets overwhelming and you stop.
Believe me when I say, MOST Mums out there are on the same merry-go-round without any chance of getting off, that's why I'm glad you're here reading this.
The PUSH Program was designed for YOU specifically Mum.  
[THE BIG LIE] MORE EXERCISE AND LESS FOOD IS THE ANSWER..
Can this strategy work for weight loss? Sure, weight loss is easy (just starve yourself!) it's in keeping it off where so many fail.
It might have even worked longer term in your 20's before the kids came along, before you needed that 'Mum Capacity' and your life became about so much more than just you.
But let me be clear, this strategy is ALWAYS a ticking time bomb.
Why? Because you are depleting your energy stores through excessive exercise and removing your energy supply through under eating, you'll end up exhausted, cranky and miserable.
On top of this, your bodies metabolism will slow down, becoming less efficient at fat burning.
Now you're fighting a losing battle and it's just a matter of time before you give up.
But it doesn't have to be this way.
We've proven time and time again that Mums can eat MORE of the foods they enjoy and train LESS while still achieving their fat loss goals.
The big difference with this approach is that our members can keep their results with ease!
For the simple reason that they have built Toned, Athletic machines by fuelling their bodies and through structured strength training.
You can do boot camps, fitness classes and running if you like, but understand that those activities do not build Toned, Athletic bodies.
They are forms of exercise to burn calories, they are not structured training to build something real.
To make sure your results stick and we build the body you want, we have to get you strength training properly, progressively getting stronger, no matter where you're starting from (at home is fine, it doesn't have to involve the gym!).
This isn't something that requires 5-10 sessions in the gym each week, just 3 hours focusing on getting stronger. 
We'll help you dial in your food so you can eat more and never feel hungry
We'll personalise a 3 hour/week strength training program for you
We'll surround you with Mums on the same journey.  Nobody get's left behind 
Achieving the body and health you want as a busy Mum requires a few key things:
1) A long term roadmap that has been built specifically for Mums like you and the right environment to support this  
2) Getting you progressively stronger, with proper technique (in the gym or at home) and staying consistent with your nutrition targets.
3) Real coaching from coaches who actually give a shit if you win or lose, to ensure you have the support to be consistent (even when #MumLife happens!) and who will keep you extremely accountable so you can make this stick long term 
Coach James
I'll be in your corner teaching  you how to overcome the biggest barriers to your success  
Coach Jilly
Support Coach Jilly is on hand 24/7 to help our Mums get back on track when life happens
Coach Caz
Accountability Coach Caz touches base with our Mums should they miss key milestones
Mum, I know you want this for YOU and you deserve it too, but I also know you want it for a deeper reason..
Our kids are a direct reflection of what they see in us each and every day, but being a selfless Mum who puts everyone and everything else ahead of yourself is keeping you stuck with a body and health you are unhappy with.
I know it's easier to say 'I don't have the time for me right now' than it is to address the real underlying problem and begin to make yourself a priority..
But I hope what you've read so far has made you realise that it doesn't have to be a huge undertaking and it doesn't have to end in failure this time. 
One thing I know for sure is that when Mums neglect themselves for long enough, everyone suffers in the end.
So if enough is enough, this is where I come in. Each month I'm looking for 8 Mums who are a great fit to bring into PUSH
Mums who are deadly serious about making a change and who will compliment our tribe.
We will get you where you want to be, that's a promise, if you follow the steps I give you and don't get the results we agree on, you'll get your money back.
Your body, health and happiness are priceless and as a Mum, not just to you...
The results, energy, confidence, happiness and quality of life you will gain back from our program is invaluable.
Most importantly, you won't waste any more time on bullshit quick fixes and false promises.
We'll provide you with the tools you need for life, a life that can be free from starvation diets, exercise fads, confusion and overwhelm. 
If you're interested, hit the button below to book a transformation call to apply for the PUSH Program. There will be no obligation to join.
If we agree it's a great fit all around, we will begin right away with your on-boarding process. 
If you decide it's time for YOU, don't wait, we have a hard cap of 8 New Mums per month max.
I look forward to speaking with you
- Coach James  
If We Don't Deliver You The Results You Want We Will Issue You A 100% Refund. When You Invest In PUSH You're Investing In Your Own Success. 
REAL

FEEDBACK FROM OUR MEMBERS..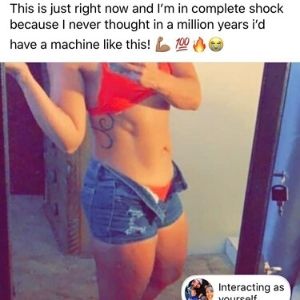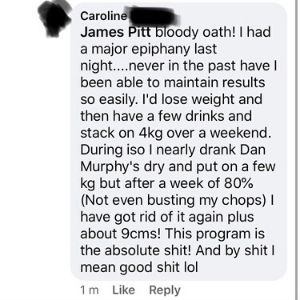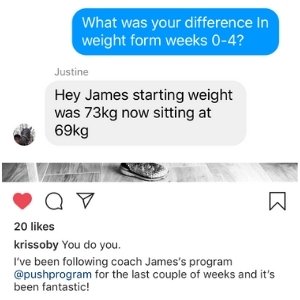 Our Vision Is To Change 1000 Mums Lives Forever By The Year 2025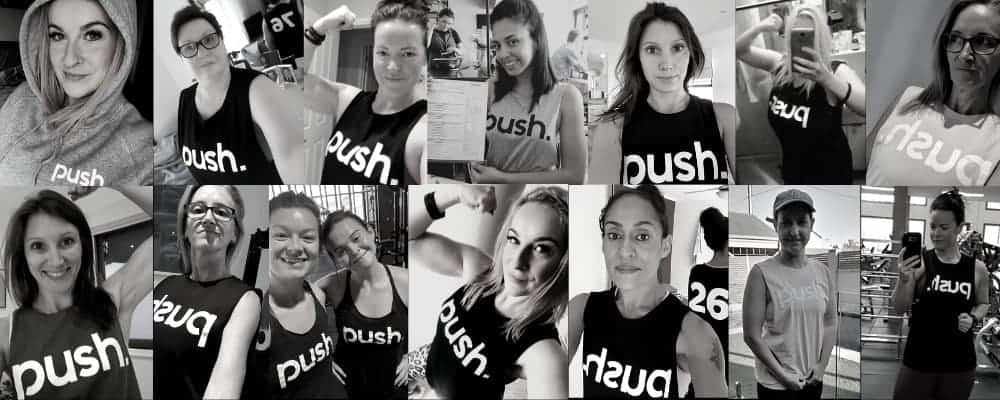 Copyright 2020 All Rights Reserved
This site is not a part of YouTube, Google or Facebook. Additionally, this site is not endorsed by YouTube, Google or Facebook in any way. Results may vary for each individual and there are no guaranteed results after consuming information provided by PUSH Program PTY LTD.